Tailored English-Russian Translation Services for Businesses and Organizations
Let us help you with professional English to Russian translation. Get in touch to discuss the details:
80 000 words translated monthly
Over 400 happy clients from 12 countries
Native Russian certified translators
Three-stage quality control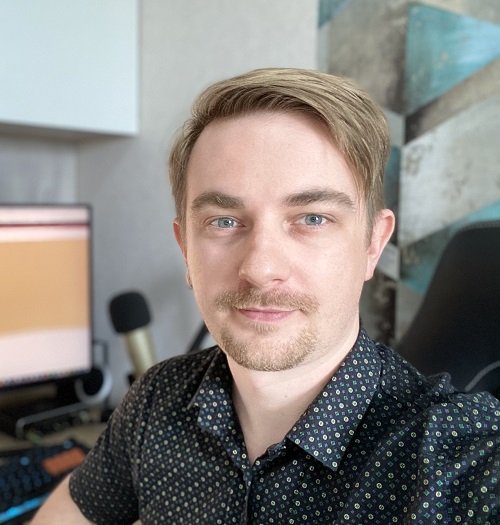 Simon Akhrameev
Head of Translation Agency, Russian Translator
Hi, my name is Simon. I'm the head of Russian Translator Pro specialized translation agency. Since 2007 our team helped dozens of companies and organizations from the US, Canada, the UK, EU, and CIS countries find a common language with partners, implement socially useful projects, and enter the Russian-speaking markets.
Each company and organization is unique, therefore we always try to learn as much as possible about the specific niche of our clients, and their products or services to ensure quality Russian translation on time, within the budget, and assuming the target audience.
We offer specialized English to Russian translation in those subject areas where we have relevant experience and knowledge. You can learn more about our services below.
English-Russian Legal Translation
English-Russian Website Translation
English-Russian Technical Translation
Russian SEO & SMM Translation
English-Russian Marketing Translation
English-Russian Video Subtitling
I was very pleased with the work Simon did for us, both on translation and interpretation. The quality was very good. I recommend him as someone who is professional, on time, and easy to work with.
Simon and his team provided me with a translation for a massive, academic/technical product, which included multiple pieces across numerous files. Simon and his team (translators and editors both) were able to ensure quick, accurate translations across the whole package to ensure consistency. I really appreciated that. Simon was willing to work with us on difficult words or turns of phrase and provided quick, professional revisions upon request. He was someone I was happy to work with and would do so again.
We are very grateful to Simon and his team, who delivered a high-quality piece of work at very short notice. Simon proved to be extremely reliable and we would have no hesitation in using his services again!
Simon was the ultimate professional. He was timely, consistent and polite in his communications. He met a short deadline (with some time to spare) and worked with me to deliver exactly the product I needed. He also speaks fluent English, which gave me the confidence that his translations would be on the mark. Highly recommended.
Simon was a colleague of mine in Chaarat Gold. Simon possesses high-level skill in the English language and excellent in translation from English to Russian and vice versa. The most significant part is his expertise in technical translation related to Geology, Mining, Construction, and Engineering. In addition, he is very sincere, hard working with the right attitude in a team environment.
Despite the tight deadlines, Simon provided us with an excellent, professional, and astonishingly high-quality translation and interpretation services from ENG to RU. Highly recommend his service to everyone!
Simon completed a project for my team over this past year. We had a number of varied needs from surveys to consent forms to web pages. He was always prompt in responding and attentive to follow-up questions. Very easy to work with and delivered a reliable and accurate product.
Simon worked for us translating English to Russian projects. He is extremely responsive, trustworthy and makes sure to deliver on time and under budget. We definitely recommend him for any English to Russian translation tasks.
Quick turnaround, excellent work, flawless communication – can't ask for a better experience.
Always on time
Information quickly loses its relevance if delivered untimely, therefore we always provide translation exactly when you need it.
The right price
Choose one of our transparent and flexible pricing options to meet your budget.
Stable quality
A good reputation is more valuable than money, especially in the translation business. Learn what people say about our services.
The perfect fit
You can always get a free advice to find the right set of translation services exactly matching your requirements.
Complexity
Specialized translations are our fort. Even the most complex technical concepts or quibbling legal definitions are within our grasp.
Quick response
Have questions or additions to the projects? We will reply to your enquiry within 24 hours or earlier!
Frequently Asked QUESTIONS
All new clients have three common questions about translation. We prepared simple answers to these questions for your convenience.
HOW MUCH DOES A TRANSLATION COST?
We offer three pricing packages to meet your budget and quality expectations. Need a quick and simple translation to understand the idea of the message? Choose the Basic Translation and get your text translated for only $0.10 per word. The Standard Translation package priced at $0.14 per word is the best fit for complex legal or technical documents like a contract or equipment manual. Finally, for documents aimed at large audiences, like marketing materials or scientific papers, you can choose the Premium Package to ensure top quality with multistage QC process at $0.18 per word. For instance, the cost of a 250-word text will be $25, $35 and $45 respectively. You can find out more about translation pricing on our blog: Translation Rates and Prices.
HOW LONG DOES IT TAKE TO TRANSLATE A TEXT?
Professional human translation is not an instant process. Translation is a complex intellectual activity that takes some time. A qualified translator can translate from 1500 to 3000 words per working day depending on the text complexity. On the average, you can expect a text of 2000 words to be translated the next day after your order.
HOW DO YOU ENSURE TRANSLATION QUALITY?
According to the latest translation standard (ISO 17100:2015), the quality of translation is ensured through specialized QC processes: proofreading, editing, and computer-aided QC. Depending on the required translation quality you can choose one of our pricing packages. The Basic package includes proofreading by a translator only (me); the Standard package, includes Basic + proofreading by the second linguist; the Premium package includes all features of the Standard pack + editing by a professional Russian editor. Computer-assisted quality control is available in all three packages to avoid mechanical errors (typos, omissions, etc.). These procedures guarantee top quality of all our translations. For more details about translation quality, take a look at this article: How to Get High-Quality Translation if You Don't Know the Target Language.
BASIC
a good fit for general subject texts, blog posts, business correspondence
Professional Translation

Proofreading (by a translator)

Computer-assisted QA

DTP & Formatting

10% first-time client discount

Editing by a professional Russian editor
STANDARD TRANSLATION
the best choice for technical and legal translations: reports, design documents, manuals, contracts
Professional Translation

Proofreading by another linguist

Computer-assisted QA

DTP & Formatting

10% first-time client discount

Editing by a professional Russian editor
PREMIUM
a perfect solution for top-priority translations: science and patents, marketing, ads and PR texts
Professional Translation

Proofreading by another linguist

Computer-assisted QA

DTP & Formatting

10% first-time client discount

Editing by a professional Russian editor
REQUEST A QUOTE
Request a quote today! Contact us to discuss project details, agree on the price and time frames for translation. 
MAKE PAYMENT
Given all conditions are agreed, you can make payment via our secure Client Portal.
TRANSLATION
This is where all magic happens. We will translate your document, website or application into Russian and send the translated files as agreed.
CHECK THE RESULTS
When translation is done (including proofreading, editing, etc., depending on the package), you can check the files and provide comments, if any.
BECOME A LOYAL CUSTOMER
We provide special conditions for loyal customers. If you need Russian translation services regularly, contact us to get more information.
RUSSIAN TRANSLATOR PRO
Professional English-Russian Translation Services since 2007. Here you can order top-notch English-Russian translation services in the following areas: translation of web content (blog articles, landing pages), app localization, technical translations (construction and engineering, geological exploration, ore mining, power engineering, occupational safety), legal translation (contracts, agreements, laws, and taxes, terms of services), translation of scientific texts (environmental and social studies), IT (software, hardware, systems and networks).

PAYMENT OPTIONS
You can use the following options to pay for English-Russian translation services: Visa or MasterCard, PayPal, or Direct Bank Transfer.