When you have regular translation needs, one of the best options is to find a reliable translator for long-term cooperation.
Translation is a specific field of expertise, and if you never hired a translator before, there are a couple of things you should consider to establish a healthy working relationship.
In this post, I have prepared five pieces of advice that will help you to maintain good working relationship with a translator at the highest professional level to achieve the best results for your business.
1. Submit the final version of the document for translation
In the majority of cases, it is quite possible to prepare a document or a set of documents and send the final version for translation.
Submitting the final version to your translator has two main benefits:
You will save time, as a translator won't need to translate parts of the text that might be removed from the final version.
You will save money, as some parts of the text will be removed from the final version and thus they will not be translated.
When a team of specialists develops the document, it inevitably results in the creation of several versions of the document in the course of work.
Each team member can add, remove or update some parts of the text and in many cases the final version will be completely different from the first draft.
Some managers prefer to ensure that translation is started when the first draft is available, assuming that this may accelerate the translation process.
In fact, this approach leads to a duplication of a translator's work and translation of an irrelevant text that will not be included in the final version. Moreover, it serves as one of project deceleration factors because of the necessity to re-send the latest versions back and forth.
To ensure fast end efficient translation, send the final version of a document.
NEED ENGLISH-RUSSIAN TRANSLATION?
MAKE YOUR ORDER TODAY AND
GET 10% OFF
Order English-Russian translation for your document, website or app today and get 10% off!
2. ALLOCATE sufficient amount of time for translation on your project schedule
Many people who were never involved in the translation process often think that it does not (or should not) take much time.
This is a common misconception about translation.
Translation is a complex intellectual process involving various linguistics transformations to convey the meaning of the original text into the target language.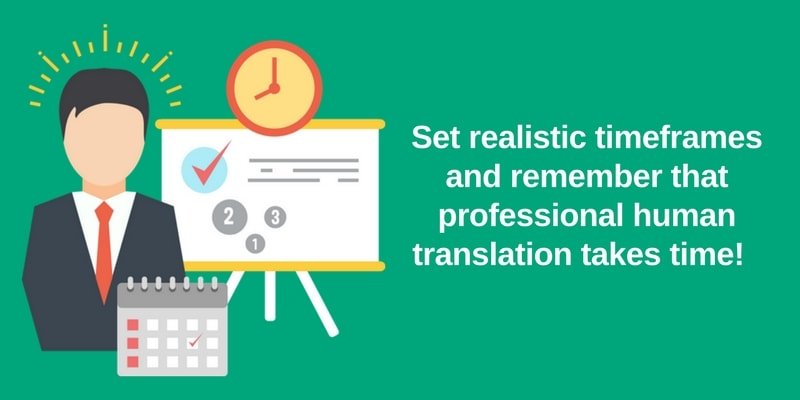 Professional translation includes several stages of work where translation alone takes a part of the process. The entire translation cycle may include (but is not limited to):
Pre-translation analysis of the text
Search for the reference information
Preparation of glossaries to ensure terminological consistency
Translation
Proofreading
Editing
Formatting or Desktop Publishing
Final check
Depending on the importance of the document, you may need to include or remove several stages from the process.
For instance, if you need a translation of in-house correspondence, simple translation, proofread by the same translator, will be enough.
On the other hand, if you need to translate marketing documents targeting a large group of people, you will need a top-quality translation that can be assured only by the combination of translation, proofreading by the other linguist and editing by a professional editor (as per ISO standard).
Moreover, translation of marketing materials, like company brochures or posters, may also require desktop publishing, as such documents are usually created in special design software (e.g. InDesign or Photoshop).
All these factors shall be taken into account to identify the timeframes for translation.
In general, based on my experience, I can translate from 2500 to 3000 words per day (English-Russian translation). You can request a free quote for your English-Russian translation project using a green chat icon below.
3. Discuss the types of services you need: translation or transcreation
Translation is not limited to a simple conversion of a source words into another language. In fact, there are several types of translation.
While such texts as agreements, medical documents or technical manuals shall be translated as close to the original as possible, there is a particular category of content that requires significant rework and restructuring in the course of translation.
Such process is called transcreation.
Transcreation is a term used … to refer to the process of adapting a message from one language to another, while maintaining its intent, style, tone and context. A successfully transcreated message evokes the same emotions and carries the same implications in the target language as it does in the source language.

Source: Wikipedia
Not all translators can do that, as it requires not only an in-depth knowledge of the target culture and market conditions but also copywriting and marketing skills to re-create the source text into another language and at the same time to maintain the properties mentioned above (intent, style, tone, and context).
4. Source text shall be logically structured and completed
It may seem obvious, but sometimes translators receive incomplete documents or documents without a logical structure.
This can be the case when an author does not check the final document or creates the document by copying text from his previous documents without defining a new structure or consistent correlation between the sections.
So, make sure your document is logically structured and complete before sending it to your translator.
5. Confirm the following details about translation
Finally, there are several other things to consider before hitting 'Send' button on the message with your translation request.
In many cases, you need to specify the language version of the target text.
For instance, if you hire a Russian to English translator, depending on the location of your target audience, this can be either UK or US language version.
If you have uncommon abbreviations or acronyms in your document, provide them in a list format with explanations. This will help to save time for your translator.
If your company has a style guide, send it with your translation request. Even if this guide is prepared for your source language, there still might be some standard rules, such as a tone of voice, words to use or to avoid in your branding or marketing materials, and other instructions that will be helpful for your translator.
Of course, many other things can improve your cooperation with a translator, but mainly they relate to pure business ethics and rules of conduct, while the above tips solely relate to cooperation taking into account the specifics of the translation profession. I hope you will find them useful when you contact your translator next time.
Meanwhile, if you need professional English-Russian translation for your company website, document or application, you may request a free quote via my email.
Need more tips about translation?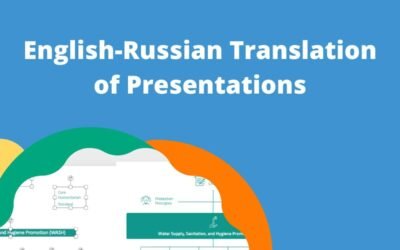 Many clients order translation of presentations. This format has obvious differences from Word or Excel documents: Less text, more visuals. More laconic presentation of information. Availability of author's comments. Lots of abbreviations. All these features have...